THINKING ABOUT GOING SOLAR?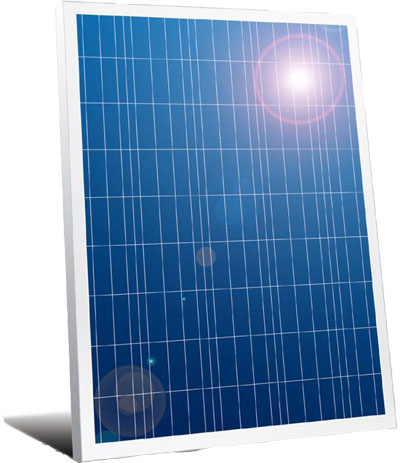 Going solar is the single smartest upgrade you can make to your home. You'll save loads of money; in fact, you'll notice the savings on your very first electricity bill. Plus, you'll help save the planet, too. Installation is simpler and more affordable than ever. And thanks to a variety of great new tax credits and incentives, your upfront system costs can be reduced by more than 50%.
Solar Energy is:
CLEAN
EFFICIENT
MONEY-SAVING
SMART
EASY
MAINTENANCE-FREE
So whether you're concerned about the environment or your energy bill – or both – solar is the answer you're looking for. Read on to learn more.
WELCOME TO THE FUTURE
Solar energy used to be talked about like some futuristic dream. Well, that dream has become very real. And now, you can take advantage of all its many benefits.
QUICK FACTS TO CONSIDER:
Solar energy is a natural resource that's way cheaper than the electricity you buy from your electric company
Solar energy is clean to gather and clean to use – so it's great for the environment
Solar energy will change the way you think and feel about electricity (like, you'll worry less about using the clothes dryer or keeping that extra light on)

Solar energy reduces our dependence on foreign oil
Bottom line, when your home is powered by solar energy, you'll see the savings every month when you get your utility bill, and you'll feel great knowing that you're making a real impact on the environment – an impact your friends and family will notice.
Let Pfaff Brothers show you how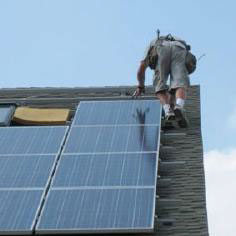 THE TOP-FIVE REASONS TO SWITCH TO SOLAR
5. IT HELPS THE ENVIRONMENT

70% of the electricity provided by utility companies is generated by burning fossil fuels. By getting your electricity from the already-burning sun, you'll help keep the air, water and soil clean – not just today, but for generations to come.

4. YOU'LL SAVE BIG MONEY

Every hour of energy you generate through your solar panels is an hour of electricity you won't have to buy from your electric company. Some of our clients run their homes on 75% solar-generated electricity. Can you imagine seeing an electric bill that's only 25% as much as usual? And can you imagine seeing those savings every month?

3. IT'S EASY TO OWN

Solar installations require just about zero maintenance. You may have to occasionally rinse off dirty panels, but many customers find that periodic rain does the trick just fine. As long as nothing is blocking sunlight from shining on your panels, your solar system is good to go.

2. YOUR HOME VALUE WILL INCREASE

Solar panels decrease electricity bills, making homes cheaper to live in. That's a big value to the prospective home buyer. Plus, a "green home" stands out in the market place as something rare and unique.

1. IT'S THE SMART CHOICE!

Choosing solar energy is a smart choice for you, your family, your home, and the planet. Plus, it's affordable and will start saving you money from the moment of installation. Solar energy is a win-win-win-win-win!
HOW IT WORKS
Solar panels capture sunlight which becomes DC electricity
Your system converts that energy to AC current, which powers your home
Any energy you don't use will reverse the meter direction through net metering
AT A GLANCE: Here's a fancy word with a simple meaning: "photovoltaics" (or simply "PV"). That's the name for the solar panels that capture sunlight and convert it to electricity. During the day when the sun shines, your PVs capture light as energy. That energy travels through wires down to a unit of installed equipment called an inverter. The inverter converts that energy into the type of power your house uses – a form of electricity called Alternating Current, or "AC." That AC current then travels to your house's electrical panel where net metering will occur.
At night, even when your solar panels are not gathering light energy, your house runs on the clean electricity excess, through net metering. And if need be, you'll continue to get electricity from your local utility. So there's no interruption in service…but your electric meter sure will turn a whole lot more slowly.
HOME ENERGY AUDITS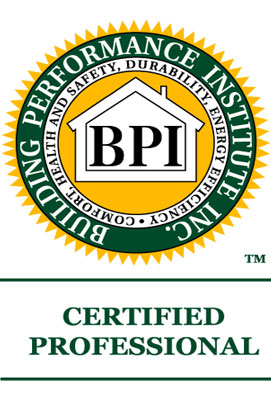 What is a home energy audit? It's your opportunity to find the energy inefficiencies in your home and see where you can make some money-saving changes.
Our BPI certified professionals will give you a comprehensive and accurate assessment of what energy efficient improvements will make the most sense – and start paying you back the fastest. A home energy audit will help you:
Improve the energy efficiency of your home
Save big money on your energy bills
Shrink your family's carbon footprint
WAYS TO IMPROVE HOME EFFICIENCY
Energy efficient lighting
Up to 15% of your home's energy usage goes to lights. Switching your regular lights to energy efficient ones is an easy and cost-effective way to reduce your energy usage. Pfaff Brothers offers a full range of options, including Compact Fluorescent Lights (CFLs) and LED lights – both of which can provide significant energy savings over traditional bulbs, and last far longer.
Air sealing and insulation
Does your home have mysterious drafts? Do you have windows with random condensation? Well, not only are these things uncomfortable and unsightly, they're costing you big money, too. The auditors at Pfaff Brothers will identify and remedy the thermal bypasses that are wasting your energy, and make skillful observation as to where your money-saving opportunities exist.
And more, such as Tankless Water Heaters, Daylighting Systems, Solar Systems (PV & Thermal), updated HVAC Systems
GEOTHERMAL POWER
You may have heard of geothermal power. But what is it? Basically, it's a simple way of tapping into natural sources of heat and cool that exist beneath the earth's surface.
The professionals at Pfaff Brothers can channel those sources and bring them directly into your home – helping you burn less fuel and save more money.
People have actually been using geothermal methods for centuries, but it's only recently that technology can harness geothermal power to efficiently heat or cool a home, or power a community.
ENERGY COSTS, COMPARED
The numbers tell the value story. Just look at how geothermal energy compares to traditional forms (prices below reflect cost per 1,000,000 BTU):
Fuel Oil: $30.21
Propane: $29.73
Natural Gas: $15.48
Geothermal Heating Pump: $6.70
Pfaff Brothers offers many different types of Geothermal Power Systems, including:
Open Loop Heat Pump System
Horizontal Closed Loop Heat Pump System
Lake Loop Heat Pump System